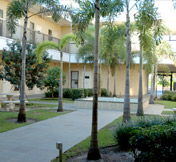 Avalon Accounting is a small business and personal accounting firm dedicated to ensuring that our clients receive the best possible service throughout the year. We realize that no one enjoys paying tax but it is a legal requirement which must be taken seriously.
We have almost two decades of experience in the Broward, Palm Beach  & Dade County areas including:
Fort Lauderdale
Coral Springs
Weston
Boca Raton
Pompano
West Palm Beach
Miami
Since 1994, we have saved hundreds of thousands of dollars for our clients in these areas simply by listening and doing what we do best: Researching tax laws and coming up with new ways to reduce the amount of tax paid by our clients.
We Treat Our Clients Like Family
Avalon Accounting is a family run firm intent on forging close bonds with our clients. R.J Avalon, founder of Avalon Accounting, has a basic philosophy which he has maintained for his company: "Treat everyone that steps through our doors like family." His vision for great customer service will keep you coming back for years to come. We have the ability to take care of your every tax need because we analyze each client individually.
There are dozens of tax advantages available but these depend on the circumstances of each individual small business. By finding out all about you, we can save you the greatest amount of money on your taxes. This can only be achieved by sitting down and treating you like a valued client and old friend rather than just another customer.
Don't make the mistake of hiring a company with employees whose only experience in the accounting field is an 8 week tax course. These companies pay employees bonuses to charge you extra for additional schedules that you simply don't need.
Avalon Accounting is available year round. As the IRS never closes down, neither do we. When our clients are in dire need of an accounting solution, we never let them down. Forget about wasting energy deciding whether your employees can be classified as full-time or part-time. Instead of spending too much time on your taxes and neglecting your business, contact Avalon Accounting now for a dedicated accounting service that saves you the maximum amount of money.
Many small businesses make the mistake of thinking that an accountant is an unnecessary expense. Little do they realize that a high quality firm like Avalon Accounting pays for it self. The money you save will exceed what you spend. Of all the business decisions you make this year, choosing us as your accountant will be one of the most prudent. Contact us today.